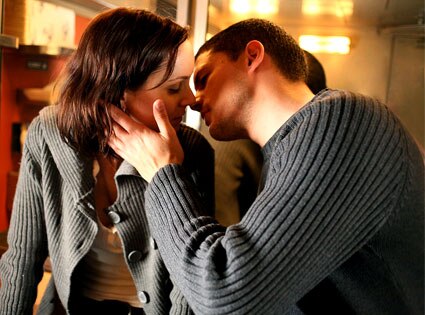 Mmmm...scrambled eggs, bacon and a side of "Hey babe" with a wink from Dominic Purcell. Let me just say I could start off every morning just like this, as Fox kicks off its Television Critics Association press day at the Beverly Hilton with a Prison Break-fast. (Their pun, not mine. I'm not that clever.)

Sarah Wayne Callies is not going anywhere, Wentworth Miller is happy as a clam (make that, hot clam) and the producers are moving forward on a Prison Break spinoff. Click in for all the breaking scoop that just went down..
Sarah Wayne Callies Loves You: When asked how she felt about the overwhelming fan response to her character's death that brought her back to the show this season, Sarah Wayne Callies got a little misty: "It was heartstopping. She's a small character on the show, and I never thought they would make the noise that they did. I don't have words for the kind of gratitude I felt. It's incredible." Added Wentworth: "It was a happy day when Sarah returned. There are a lot of chefs and so to say that one person made the decision would be erroneous. And I have to say that Sarah has handled herself with grace, and dignity through the whole process and ultimately what happened is that we are doing right by the fans and bringing her back."


credito/credit to e tb para verem a continuação da entrevista  : E!